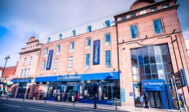 Travelodge
Derry Hotel
22-24 Strand Road
Derry
BT48 7AB
Tel: 0870 1911 733 *
Fax: 02871 271277
*Calls cost 10 pence per minute from a standard BT landline.
Calls from other networks and mobiles may vary.
Details about the Travelodge Derry Hotel
Best Rates Direct Guaranteed: Travelodge Ireland Hotels guarantee that you will only find the best hotel room rates when booking direct online for the Travelodge Derry Hotel.
Booking Direct Benefits with Travelodge Ireland:
Best Rates Online Direct Guaranteed
Manage your hotel reservations online
12pm noon on the day cancellations*
Prices are quoted per room per night
Derry Hotel Guides and Information
At Travelodge Ireland Hotels we're committed to making your stay as enjoyable and convenient as possible. To make sure that you've got all the information you need before making your booking in our budget Derry hotel we've put together this Derry visitor guide for travellers wanting to explore the City of Derry while staying in our city centre hotel.
The Travelodge Derry Hotel offers superior 3 star accommodation in the very heart of Derry's city centre. Whether you're visiting the City of Derry for a weekend break or here on regular business and require corporate hotel rates in Derry, we're here to accommodate your requirements.
Our Travelodge Derry Hotel features 44 budget rooms split into four categories: double rooms, twin rooms, triple rooms, and rooms designed to aid the disabled. The entirety of our hotel is wheelchair accessible to make sure that all our guests have a comfortable stay. With 24 hour Wi-Fi, check in and check out as well as vending machines inside our cheap hotel you really have everything you need when you stay in our cheap Derry accommodation.
Every room in a Travelodge budget hotel comes with a flat screen TV, telephone access, spacious en suite bathrooms and facilities for making tea and coffee. The Travelodge Derry Hotel is just moments away from the central walled city of Derry, giving you the perfect location in which to spend the night on a budget.
Book now to get the absolute best deals on 3 star hotel rooms in Derry city.
About the City of Derry (Londonderry)
Derry is one of Northern Ireland's most historic cities. As the second largest city in the north, Derry has been the centre of a lot of historical and cultural events over its existence. As the first UK City of Culture, Derry city stands out as a great place for anyone interested in exploring an often overlooked city of Ireland.
Our Travelodge Derry Hotel is found right in the centre of Derry city giving our guests unbeatable access to the city's major attractions on a budget. Just next to the Derry City Walls which used to enclose the entire city, our cheap hotel is only moments from some of the most striking visitor attractions in one of Ireland's most impressive cities.
People have lived in Derry since the 6th century when a monastery was founded. Over the years of Viking raids and population growth the monastery came to be destroyed. The original city of Derry was established in 1603 as a small trading settlement, eventually growing into a larger area within the city walls, now over 400 years old.
Designed to impress all visitors as part of the historic settlements in Ulster, Derry city houses some incredible feats of architecture like the Derry Cathedral and Ebrington Square. Over the years, the city has hugely expanded out of the city walls, and is now the 4th largest city in the whole of Ireland.
With some amazing natural areas just a short distance away from Derry city centre we really recommend Derry for anyone looking to take a Derry weekend break in one of the most beautiful parts of the country. Book a cheap hotel room with Travelodge today for the best way to experience the city.
Along with amazing natural attractions, there are some major industries across Derry, so if you're heading to the city for a business trip make sure you sign up for our corporate programme for a discount on our budget hotel accommodation.
Derry Local attractions with Travelodge Hotels Ireland
There's an amazing amount to do in Derry city no matter what you're interested in. The city is best known for its historical and natural attractions, but with exciting modern attractions across the city you really can't go wrong when you book a stay in our cheap Derry hotel. Find some more of the best things to do in the city on our Derry Top 10 Attractions page.
Just a short walk from our budget Derry hotel you can find the fantastically designed Derry Guildhall and explore the fascinating history of the city in an engaging and interactive modern exhibit. Just outside the Guildhall, the Derry Peace Bridge unites two halves of the city with a gorgeous walk over the River Foyle.
Crossing the bridge you can find the old star fort of Ebrington Square, along with the relaxing natural environment of St. Columb's Park. Step back into history at the square's many historic buildings and start to explore nature.
Heading a little further out from the city you can find some of Ireland's most iconic and picturesque sights. Travel to the famous Giant's Causeway or stop off at Downhill Beach, a major filming location for hit series Game of Thrones.
Check out our Derry Top 10 Attractions page to see some more of the best attractions for your stay in our budget Derry hotel.
Getting to the Travelodge Derry Hotel
With its central location, our Travelodge Derry Hotel is very accessible for everyone heading to the city. A nearby Foyle Street bus station lets visitors get about the city on a budget while the central Derry train station is just over a mile away, letting our guests easily head out to some of the incredible Derry Day Trips near to the city itself. If you're looking for a beautiful and unique place to spend time, take a weekend break to Derry!
If you're flying from or to the City of Derry Airport our budget hotel is an excellent choice. You can reach the airport through regular Ulsterbus services like the 144 from Foyle Street, less than a 10 minute walk from our cheap Derry hotel.
For those driving into the city, our budget Derry hotel is located just off the A2 Strand Road which makes sure that you can easily get across the city. Book a room now to get the cheapest deals on 3 star accommodation in the centre of Derry city.
Upcoming events near our budget Derry hotel
With its incredible artistic scene including major events like the premiere performance of Brian Friel's Translations (which took place at the Derry Guildhall) and the 2013 UK City of Culture celebrations, Derry has some amazing events for anyone over visiting the walled city.
Along with regular performances in great Derry Theatres like the Millennium Forum and Nerve Centre, Derry has some incredible festivals through the year like May's Derry Jazz Festival and the Foyle Film Festival in November.
Book a budget hotel room with Travelodge and you'll be saving money with the best rates guaranteed direct through our website.
Transport links near Derry Hotel
Derry Bus Station - 0.25 miles
View map

Derry Waterside Railway Station - 1.5 miles
View map

Londonderry Airport - 7 miles
View map