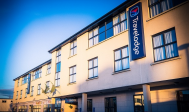 Family Room
Travelodge Galway City Hotel
Joyce Roundabout
Galway City Centre
Tuam Road
Galway

Tel: 00 353 91 781 400
Fax: 00 353 91 781 498
Important information
If you are experiencing any problem with making your reservation please contact us on +1890 709709 Travelodge Galway Hotel is situated on the Tuam road 1 mile from Galway City Centre. The hotel is just minutes away from the main link road that services many of Galway's busiest industrial and retail parks. Local shops and services are available close by and it is only a short walk to the local traditional pubs.
Galway City Hotel Information
The Travelodge Galway City Hotel combines comfort with convenience, and is located just 1.1 km from the city centre, 2.3 km from NUI Galway and a 15-minute walk from Eyre Square. The attractive hotel features all the facilities you'd expect from a Travelodge, with plenty of amenities and attractions that will help to make your stay enjoyable and memorable and affordable prices that are ideal for those looking for a cheap hotel in Galway City.

Nearby attractions and amenities include: the Galway Arts Festival, the Spanish Arch, Galway Omniplex, Galway Races and the Sportsground. Galway City itself boasts an impressive range of bars, nightclubs, restaurants, museums, galleries, theatres and other venues that can help to make your stay memorable.

If you fancy a delicious and reasonably priced breakfast, the hotel's restaurant is at your disposal and serves breakfast from 7.30am to 10.00am during the week, and 8.30am to 11.00am at weekends. The hotel also offers a comfortable and well-stocked café-bar – perfect for refreshments after a day enjoying the sights in this beautiful part of the world. As one of the cheap hotels in Galway City, you know prices will be more than affordable too.

Hotel facilities include spacious en-suite bedrooms with king-sized beds and sofa-beds, multi-channel televisions, WiFi and tea and coffee-making facilities. Prices are quoted per room and most have sufficient space for three adults and a child or two children and two adults. Early and late check-in and check-out is also available to accommodate your schedule and the hotel provides a fast check-in service to help save you time. Corporate rates are available and groups are always welcome. The hotel also offers complimentary parking and is just minutes away from the main road that links many of Galway's busiest industrial and retail parks, Galway Racecourse and Galway Airport – perfect if you're looking for cheap hotels in Galway for business.

As with all of our hotels, the Travelodge Galway Hotel provides all you need for an enjoyable stay – no matter what the purpose of your visit.
Transport links near Galway City Hotel
Galway Bus Station - 0.5 miles
View map

Galway Train Station - 0.5 miles
View map

Galway Airport - 6 miles
View map

Shannon Airport - 35 miles
View map