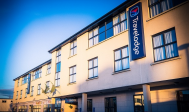 Family Room
Travelodge
Galway City Hotel
Joyce Roundabout
Galway City Centre, Tuam Road
Galway
Tel: 00 353 91 781 400
Fax: 00 353 91 781 498
Important information
If you are experiencing any problem with making your reservation please contact us on +1890 709709 Travelodge Galway Hotel is situated on the Tuam road 1 mile from Galway City Centre. The hotel is just minutes away from the main link road that services many of Galway's busiest industrial and retail parks. Local shops and services are available close by and it is only a short walk to the local traditional pubs.
Travelodge Galway city centre Hotel details and information
Best Rates Direct Guaranteed: Travelodge Ireland Hotels guarantee that you will only find the best hotel room rates when booking direct online for the Travelodge Galway Hotel.
Booking Direct Benefits with Travelodge Ireland:
Best Rates Online Direct Guaranteed
Manage your hotel reservations online
12pm noon on the day cancellations*
Prices are quoted per room per night
Galway Hotel Guides and Information
At Travelodge Ireland Hotels our policy has always been making sure that your stay is as comfortable and convenient as possible, so we've put together some information for you about our Travelodge Galway Hotel. Check out our Galway visitor guide to see some detailed information about the best sights in Galway city, and keep reading to find out more about our comfortable city centre hotel.
Our Galway budget hotel offers the best 3 star accommodation in the city centre of Galway. We can accommodate for you whether you're visiting the city of Galway for a weekend break or heading to the city on a business trip.
Our budget Galway hotel has 59 rooms available in a number of types, so whether you need a double room, family room, disabled room, or a single room we can accommodate for your needs. With the entire hotel being wheelchair accessible we can assure that our guests will all have a great night's stay in our cheap Galway hotel. Our free car park also has 59 spaces to make sure that your stay is as convenient as possible.
With a Travelodge Restaurant in our budget hotel serving breakfast from 7:30 am to 10 am and dinner from 6 to 9 pm, you can enjoy a delicious meal when you arrive and check in. If you're checking in out of hours, there's no problem, with our quick 24 hour check in and check out facilities and wide range of minibars and vending machines.
We offer our visitors a range of facilities in every one of our budget rooms. Our Sleepeezee beds are designed to offer an incredibly comfortable sleep in a central Galway location, and every room comes equipped with a flat screen TV, new phone system, facilities for tea and coffee as well as spacious en suite bathrooms. Our cheap 24 hour Wi-Fi services make sure that you don't have to miss out on anything that's happening when you stay with Travelodge Ireland Hotels.
About the City of Galway
The City of Galway is famous for its incredible connection to the traditions and culture of Ireland. With over 800 years of history, Galway city has long been one of the most impressive areas in the country. The city's strong connection to Gaelic traditions is unmatched outside of the Gaeltacht regions of the country.
The city combines a strong cultural connection with a strong sense of modernity, creating some truly impressive attractions across the city from the historic to the modern. As the leading name in budget hotel accommodation in Ireland, we at Travelodge Ireland Hotels have a cheap hotel right in the centre of Galway to give you a great place to stay on a budget when you visit the city. Whenever you book directly through our website we guarantee that you'll be getting the best rates guaranteed direct on 3 star accommodation to give you a great deal when you stay with us. We cut out the unnecessary and overpriced extras of other hotels to focus on making sure that you have a great night's rest. If you're visiting Galway with family or friends you can save even more, because we don't charge you for extra people staying in one room.
Book now to experience the great sights of one of the most beautiful parts of Ireland from our cheap Galway hotel.
Galway top attractions with Travelodge Ireland Hotels
Galway city has long been seen as one of the most interesting areas in which to spend a holiday in Ireland and has some amazing attractions ranging from the natural to the modern and artistic. When you stay in our budget Galway hotel we want you to have as enjoyable a time as possible so we've put together a list of our Galway Top 10 Attractions.
Quay Street and the nearby Latin Quarter greet visitors with the warm and welcoming atmosphere that Ireland is so famous for. Head to one of the amazing restaurants to try a delicious traditionally made meal or stop in at a warm and relaxing pub along the street. If you're visiting the city with family, check out the Galway Atlantaquaria, one of Ireland's best aquariums.
Head a bit further out from Galway city for a day trip to the famous Cliffs of Moher. One of the most picturesque areas in the whole of Galway, the cliffs are a favourite for tourists wanting to admire the amazing visuals that Ireland is so famous for.
Book now to see some of the amazing sights in our Galway Top 10 Attractions page.
Transport in Galway city
Located near the city centre, our Travelodge Galway Hotel is in an accessible area to give you great access no matter how you're heading into the city. The Galway train station is just over a kilometre from our cheap Galway hotel, and the recently reopened Galway airport is only a few miles from the city.
Whether you're driving in or plan on taking the bus around the city, our central Galway hotel is only a short distance from the N6 motorway meaning that everything around Galway is comfortably accessible.
Book a comfortable room with Travelodge now to save on 3 star accommodation in Galway city.
Galway Annual Events
As an incredibly artistic area, Galway has some great events across a huge range of artistic mediums. With some great theatrical venues, you can find out what's coming up over the next few months at our Galway Theatres page.
The city famously hosts some of the most impressive annual events in Ireland. On our Galway Festivals page you can find out more about events like the Galway International Arts Festival and the Galway Oyster Festival.
Whenever you stay in Galway you'll be able to see some great events, so book a room in our budget Galway hotel today for the best deals on 3 star hotel rooms with Travelodge.
Transport links near Galway City Hotel
Galway Bus Station - 0.5 miles
View map

Galway Train Station - 0.5 miles
View map

Galway Airport - 6 miles
View map

Shannon Airport - 35 miles
View map