Dublin Stephens Green Hotel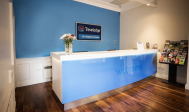 Travelodge
Dublin Stephens Green Hotel
Lower Mercer Street
Dublin
Tel: +353 147 20 800
Fax: +353 147 20 808
Important information
Taxis are readily available from the airport to Dublin City Centre at approximately €20.00 - €25.00. The Air Link and the Airport Bus run numerous times a day from the airport to the city centre. Prices range from €2.00 - €5.00. Dublin's railway transport - the DART - runs from Howth to Greystones offering you the chance to visit some of Dublin's beautiful coastal towns. DART stations are only a short distance from the Travelodge Hotel. The Travelodge Hotel is situated adjacent to St. Stephen's Green and a short walk from O'Connell Street and College Green, which are all major routes for Dublin's bus service throughout the city.
Travelodge Dublin Stephens Green City Centre Hotel Information
Best Rates Direct Guaranteed: Travelodge Ireland Hotels guarantee that you will only find the best hotel room rates when booking direct online for the Travelodge Dublin Stephens Green Hotel.
Booking Direct Benefits with Travelodge Ireland:
Best Rates Online Direct Guaranteed
Manage your hotel reservations online
12pm noon on the day cancellations*
Prices are quoted per room per night
Dublin Stephens Green Guides and Information
As the number 1 chain of budget hotels in Ireland, we at Travelodge Ireland Hotels have learned what our guests want when they stay in our cheap 3 star accommodation: a comfortable night's sleep with an amazing price. We've made sure that you can get all of this when you book a room in our Travelodge Stephens Green Hotel by guaranteeing the cheapest rates in the city while still keeping our rooms amazingly comfortable.
Because it's the busiest city in Ireland, we run 5 budget hotels across Dublin to make sure that you can stay in one of our budget hotels no matter where you want to stay in the city. One of our most popular cheap Dublin hotels, our Travelodge Stephens Green Hotel is directly in the middle of Dublin city. When you book with Travelodge, you'll be getting the best rates guaranteed direct through this website.
Surrounded by some of the most impressive attractions of Dublin, our hotel is an excellent place for anyone looking to spend some time exploring the capital of Ireland. With its excellent location you can easily reach any part of Dublin city from Dublin Airport in the north to the southern RDS Arena from our budget hotel. We recommend our budget Stephens Green hotel for anyone taking a weekend break with the family or having an early morning meeting near the city centre.
With 41 rooms in our Travelodge Stephens Green Hotel split between Single, Double, Twin, Triple and Disabled access rooms, our hotel has something for everyone wanting to visit the area. The reception, restaurant and upper floors are all accessible for wheelchair access to make sure we can accommodate for all our guests.
Whenever you stay in one of our cheap rooms you'll be getting a comfortable place to stay with a flat screen TV, large en suite bathroom and free tea and coffee to wake you up in the morning. With a great Bell and Pot restaurant right next to our hotel you can try a delicious and innovative modern meal or some classic tastes.
Dublin city centre information
With our 5 cheap hotels across Dublin city we've focused on the area around our Travelodge Stephens Green Hotel for this page. Our budget hotel is right in the heart of the city centre, one of the most iconic areas in the whole of Dublin, immortalised by writers like James Joyce. Just next to our hotel you can find St. Stephen's Green Park, which gave our hotel its name. A gorgeous natural area in the middle of the city centre, you can head to the park to relax or try a picnic with the family on a weekend break.
Right next to the park, the famous Grafton Street is an absolutely amazing place where you can go shopping and exploring. With the best shops in the whole of Dublin and an amazing atmosphere, we really recommend a trip down the street if you're in the mood for some retail therapy.
Dublin city centre has long been one of the major areas for commerce in Ireland, so if you're heading to a Dublin Business Meeting make sure you sign up for our corporate programme to save even more on our budget Dublin hotels.
Suggested Local Dublin Attractions
Anytime you book a room in one of our budget hotels we want to make sure that you have as fun a time as possible. With so much to do across Dublin city it can be hard to choose exactly what to do in your free time. To help you out, we've given you some suggestions here from our Dublin Top 10 Attractions page for some things to do around our budget Dublin hotel.
With Dublin city centre having always been one of the best areas for plays and literature we at Travelodge Ireland Hotels really recommend finding out what's on in Dublin Theatres during your stay. The Gaiety Theatre is right by our Stephens Green hotel running some great performances all year round, and the other major theatres of the city are also found around the city centre so you're sure to be able to see a great show during your stay.
If you're looking for something a little more active then we recommend that you head to one of Ireland's most popular attractions, the Guinness Storehouse. Just over 2 km from our cheap Dublin hotel the storehouse brings visitors straight into the story of Ireland's most famous export. Visitors can explore some fascinating attractions before going up to the Gravity Bar for a complimentary pint of the black stuff while looking over the landscape of Dublin city.
Interested in the history of Ireland? With Dublin Museums ranging from the natural history of Ireland to expansive international collections there's really a huge amount to see. Head to the National Museums of Ireland close to our cheap central hotel or walk a few minutes to the Chester Beatty Library, which displays some absolutely unique pieces from across the world.
Transport for the Travelodge Stephens Green Hotel
With its location in the centre of Dublin city, our Travelodge Stephens Green Hotel is easily accessible for everyone visiting Dublin city. If you're flying in through Dublin Airport, you can reach the city centre with the number 41 shuttle bus service from the airport and start exploring the most exciting parts of the city.
With the LUAS tram line covering much of central Dublin getting around the city is easy even if you're taking a ferry to Dublin Port. The St Stephen's Green station (on the Green Line) is just a few minutes from our hotel so you can travel the city without a problem. If you're heading a little further afield you can get one of the regular Dublin buses from just outside the Travelodge Stephens Green Hotel.
Train stations like Tara Street and Dublin Connolly are both just a short walk from our central hotel for anyone arriving in the city by train, so you can be sure of maximum convenience whenever you book a cheap room from Travelodge Hotels Ireland.
Transport links near Dublin Stephens Green Hotel
Connolly Railway Station - 2 miles
View map

Dublin Airport - 7 miles
View map