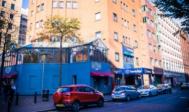 Travelodge
Belfast Central Hotel
15 Brunswick Street
Belfast
BT2 7GE
Tel: 0870 1911 687 *
Fax: 02890 232999
*Calls cost 10 pence per minute from a standard BT landline.
Calls from other networks and mobiles may vary.
Important information
Due to the city centre location, as you might expect, some external noise may be heard.
Travelodge Belfast Hotel, City Centre Budget Hotel
Best Rates Direct Guaranteed: Travelodge Ireland Hotels guarantee that you will only find the best hotel room rates when booking direct online for the Travelodge Belfast Hotel.
Booking Direct Benefits:
Best Rates Online Direct Guaranteed
Manage your hotel reservations online
12pm noon on the day cancellations*
Prices are quoted per room per night
Belfast Hotel Guides and Information
At Travelodge Hotels Ireland we've become the number one chain for budget hotels in Ireland by committing ourselves to giving our guests as comfortable a stay as possible in our comfortable hotel rooms. We want to make sure you know everything about our 3 star accommodation so your stay in our cheap Belfast hotel is as comfortable as possible, so we've put together this guide to staying in our central hotel.
Along with our Belfast city guide and the rest of our pieces on tourist attractions and upcoming events, this page is designed to make sure that you're never lost for something to do when you stay with Travelodge.
Our Travelodge Belfast Hotel is right in the city centre next to the famous Belfast City Hall, so our guests can have a convenient stay with unmatched access to the best of the city's attractions and areas. With our rates guarantee you will get the best available price for 3 star hotels in Belfast when you book directly through our website, making our budget Belfast hotel ideal for anyone heading to the city.
Whether you're flying in via Belfast Airport, taking a ferry to Belfast or reaching Northern Ireland's capital any other way, you can easily get to our cheap hotel to stay with an unmatched value for money. When you book with us you'll get the best rates guaranteed direct through our website, so get ready to explore the fantastic areas that Belfast city has to offer visitors.
In addition to our amazing prices, our Travelodge Belfast Hotel offers you convenience on every level, with each of our 90 rooms coming with comfortable beds, flat screen televisions and a spacious en suite bathroom. Along with a wheelchair accessible room and reception, our cheap rooms can be booked with double or twin beds. We make sure that our guests save by giving you discounted parking rates at the nearby Castle Street car park.
Feeling hungry while you're staying in our budget Belfast hotel? Head to the Olio restaurant attached to our lobby and try some delicious meals from an impressive international menu. Book a room at our central cheap Belfast hotel today and you'll be ready to see one of the world's most exciting cities whether you're here for a Belfast weekend break or a business trip.
History of Belfast city
Since its establishment as a Stone Age settlement, Belfast city has come to be one of the most impressive areas in the whole of Ireland. Now established as the capital of Northern Ireland, Belfast has an amazing amount of history, transforming over time from small city into a huge industrial port. We recommend checking out the Ulster Museum to find out more about the astonishing amount of history you can find across Belfast.
With festivals, concerts and events running all year round in Belfast there's sure to be something on no matter when you stay, so check out our Belfast city guide to make sure that you don't miss out on any of the great things happening. From regular musical shows from internationally successful artists at the Odyssey Arena to the huge range of plays in Belfast Theatres the city never slows down, so make sure that you book a cheap room in our budget Belfast hotel today to save with Travelodge Ireland Hotels.
Suggested Belfast tourist attractions with Travelodge Hotels Ireland
As part of our commitment to getting you the best stay possible whenever you book one of our budget hotels, we've collected some information about the best visitor attractions in Belfast city. From modern and exciting areas built in the last few years to historically developed areas, Belfast has something for everybody. Head to our Belfast Top 10 Attractions page to see more about the great attractions we didn't have enough room to mention here.
Opened in 2012 to mark the centenary of Belfast's most ill-fated voyage, the Titanic Belfast exhibition is designed to bring visitors back into the amazing history of the White Rose line as well as the Titanic itself. Using a unique combination of rides, interactive presentations and live-action acting, the exhibition has quickly become one of the city's favourite attractions. If you want to learn more about the Titanic, why not head to the SS Nomadic? The last surviving sister ship to Titanic, this restored boat shows visitors something of what it would be like to have been on board the infamous ship.
If you want a natural view, we recommend heading to Belfast Castle to look over the gorgeous city from the cop of a high hill. Check out one of the city's most impressive architectural creations while getting an amazing view of the whole city. Just next door the Belfast Zoo offers the city's favourite days out with a huge collection of beautiful and safely kept animals like tigers, gorillas and elephants.
As one of the major filming locations for the fantasy series Game of Thrones, visitors to Belfast city can see some of the iconic sites of Westeros in a unique way. Check out our page to find out more about the places from the show that you can visit across Northern Ireland from one of our cheap hotels.
Transport to the Travelodge Belfast Hotel
With its central location you won't have any problem getting to our Travelodge Belfast Hotel no matter where you're travelling from. The Great Victoria Street train and bus stations are just a few minutes' walk from our hotel, letting you reach any part of the city with ease.
Belfast Airport runs a 24 hour Airport Express 300 service into the city, stopping off right next to our cheap Belfast hotel. With such a convenient location as well as unmatched prices and comfortable rooms, our Travelodge Belfast Hotel is the perfect choice for anyone looking to explore Belfast city.
For those taking the Belfast ferry in, the 96 metro service runs directly to our hotel next to Belfast City Hall. With everything heading right to our central hotel, you can see just how conveniently located the hotel is. Book now for a cheap room in the most impressive area of Belfast.
Travelodge Budget Hotels in Ireland
As the number one chain for budget hotels across Ireland, we have comfortable accommodation round the entire country. Our hotels are located everywhere from northern Derry to the southern city of Cork, all giving you convenience and comfort at an amazing price.
If you're planning on a stay in one of our budget hotels, make sure you check out our city guides. We've brought together information about visitor attractions, major events, transport and local businesses to make sure that you know everything there is to know about the cities where you can find one of our cheap hotels.
Transport links near Belfast Central Hotel
Belfast City Airport - 3 miles
View map

Belfast Ferry Terminal - 4 miles
View map

Belfast International Airport - 19 miles
View map


Places to visit in and around Central Belfast