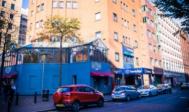 Travelodge Belfast Central Hotel
15 Brunswick Street
Belfast
BT2 7GE

Tel: 0870 1911 687 *
Fax: 02890 232999
*Calls cost 10 pence per minute from a standard BT landline.
Calls from other networks and mobiles may vary.
Important information
Due to the city centre location, as you might expect, some external noise may be heard.
Belfast Hotel Information
If you haven't already been to Belfast, it's a surprisingly refreshing place to visit. Although it's part of the UK, Belfast has a culture all of its own, which means varied attractions for travellers.

Travelodge Belfast Hotel offers affordable, high quality services for guests. With Wi-Fi access in your large, private room, and additional services and facilities such as TV and varied dining availability on site, you'll be surprised what you can get if you're looking for cheap hotels in Belfast. There's even Olio Restaurant adjacent to the hotel, which offers a blend of contemporary and traditional cuisines, for those interested in a meal out.

If you're looking for Belfast accommodation that puts you right in the heart of the city, Travelodge's Belfast Hotel is a great option. You'll only be a short walk away from everything there is to see and do, including a lively and entertaining nightlife. The local atmosphere helps make this a memorable experience with the likes of Crown Bar Belfast, which is just around the corner from the hotel, offering a traditional experience.

As for history, Belfast is proud to display its past, with exhibits such as the Titanic Exhibition proving very popular. If you're a fan of culture, other areas of interest may include City Hall and the Grand Opera House. Sports fans can also look to the Odyssey Arena and Raven Hill where you have access to Belfast's proud Rugby scene, as well as ice hockey and other events.

On the practical side of things, Belfast is a well-connected city. If you're staying in a Belfast bed and breakfast in or around the city centre, then most attractions will be within walking distance, but Victoria Bus and Rail Station is only 5 minutes away for those feeling a bit more adventurous.

Between the nightlife, culture, history and friendly local atmosphere, Belfast is a city with something going on every day of the year. With good value transport and cheap hotels in Belfast city centre, Belfast is also excellent for a holiday on a budget, and it makes a tempting alternative if you're looking for somewhere new to visit that will become a regular holiday spot.
Transport links near Belfast Central Hotel
Belfast City Airport - 3 miles
View map

Belfast Ferry Terminal - 4 miles
View map

Belfast International Airport - 19 miles
View map


Places to visit in and around Central Belfast