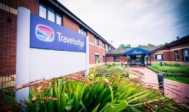 Family Room
Travelodge
Cork Airport Hotel
Black Ash
Kinsale Road Roundabout, Frankfield Road
Cork
Tel: 00 353 21 4310722
Fax: 00 353 21 4310723
Important information
If you are experiencing any problem make your
reservation please contact us on

+1890 709709

Travelodge Cork Airport is 3 miles from
Cork International Airport and a 5 minute drive from
Cork City.

Local shops and services are available close by and it is only a short walk to the local traditional pubs.

This Hotel has a Rockin Joe's Diner which is open
Monday – Friday between 7:30am and 10:00pm and
between 8:00am and 9:00pm on Weekends & Bank
Holidays.
Travelodge Cork Airport Hotel Details and Information
Best Rates Direct Guaranteed: Travelodge Ireland Hotels guarantee that you will only find the best hotel room rates when booking direct online for the Travelodge Cork Hotel.
Booking Direct Benefits with Travelodge Ireland:
Best Rates Online Direct Guaranteed
Manage your hotel reservations online
12pm noon on the day cancellations*
Prices are quoted per room per night
Cork Hotel Guides and Information
Here at Travelodge Ireland Hotels we're committed to making your stay as comfortable as possible, so we've put together a guide to our budget Cork hotel. Along with all the information you need about our cheap 3 star accommodation we've brought you a Cork visitor guide to make sure that you don't miss out on any of the great attractions you can find around Cork.
Our Travelodge Cork Hotel is designed to give you a great night's sleep between Cork Airport and the city centre to make sure that you have a convenient place to stay. Whether you're flying in to the City of Cork or are just looking to get the best value for money with our direct booking price guarantee, we're here for you.
In our Travelodge Cork Hotel you can take your choice between 60 cheap rooms broken down into single, double and triple rooms as well as rooms designed for the disabled and family rooms. We accommodate for our disabled guests by offering disabled parking facilities and 3 dedicated rooms on the first floor. Our free car park includes 75 free spaces to accommodate for any of our customers driving from the airport.
With our budget hotel a little while from Cork Airport and the city centre, you can easily travel via an hourly bus from the airport to the town stopping off by our hotel, or use the discounted rates with local taxis we can offer when you book with us. Cork city is just a short journey away from our hotel so you can see some of the best visitor attractions in Ireland with ease.
Along with 24 hour check in and Wi-Fi access being available, our budget rooms come with flat screen television facilities, en suite bathrooms with complimentary toiletries and accommodation for pets coming with you on your trip. If you're hungry, our Rockin Joe's American Diner serves up delicious American meals in a diner-inspired atmosphere from 7:30 AM to 10 PM on weekdays and 8 AM to 11 PM at the weekend.
Book now to get the best hotel deals for a stay in the city of Cork.
About the city of Cork
Cork city was one of the major areas in Ireland's industrial revolution, creating huge amounts of wool and ships to be sold around the world. Over the years, Cork has developed an impressive modern style to match the city's increasing success in the industrial world. If you're headed to the city for a Business Meeting, sign up for our corporate deals to save even more on our budget rooms.
The city has long been famous for its strong community spirit, with areas like the English Market connecting the whole community together in a great way. With the Cork Airport being one of the most frequently used in the whole of Ireland, the city attracts a lot of people wanting to explore the amazing sights of Ireland.
As the number 1 brand for cheap hotels in Ireland, we at Travelodge know exactly what our customers are looking for when they book one of our 3 star rooms: a great night's stay at an unmatchable price. We cut out the overpriced and unnecessary extras to focus on giving you comfort in a great location. Book rooms for our cheap Cork hotel now to explore the great sights of Cork with the best value for money available in the city.
Suggested Local Cork Attractions with Travelodge Ireland
As part of our Cork city guide and commitment to giving you as enjoyable a stay as possible, we at Travelodge want to let you know about some of the unmissable tourist attractions across Cork city. Whether you're interested in stunning natural and historic attractions or looking to see something modern Cork has it all. Check out our Cork Top 10 Attractions page to see a full list of some of the best local attractions in the area and get some ideas for what to do.
The most famous area in Cork, Blarney Castle is famous for granting the 'gift of the gab' to anyone brave enough to kiss the Blarney Stone in its battlements. Along with ancient and impressive architecture, the castle has some hugely impressive and expansive gardens which give visitors the chance to really appreciate Ireland's famous natural beauty.
If you're looking to explore more natural areas, the central Fitzgerald Park has to be considered one of the most ambitious areas in the whole of Ireland. Recently built to renovate the city, the park shows off an amazing sense of design sure to appeal to any visitor.
Some of the great history of Cork city can be found in attractions like the Cork City Jail. Originally considered one of the most secure prisons in Ireland, the area has been opened up to visitors who want to get up close and personal with history in a surprisingly beautiful building.
Designed to preserve endangered animals in a healthy and naturalistic environment, the Fota Wildlife Park is one of Cork's favourite attractions. Come and see some rare animals like cheetahs and penguins in an unbeatable environment.
Getting to the Travelodge Cork Hotel
With our Travelodge Cork Hotel designed to accommodate to anyone flying in from the Cork Airport we are conveniently located for anyone heading to the city. With major roads running between Cork city centre, our cheap hotel and the airport you can easily drive in or take the 226 bus for a quick journey. The Cork Railway Station is also on the 226 route, so you can reach our hotel with ease if you're taking a train into Cork.
Whether you're coming to Cork for a business trip or a weekend break, book a room in our budget Cork hotel and you'll be saving money while staying in a comfortable and attractive area. We give you the best rates guaranteed direct through our website so you'll be saving with Travelodge.
Transport links near Cork Airport Hotel
Cork Airport - 3 miles
View map

Cork Train Station - 3.5 miles
View map

Cork Ferry Port - 9.5 miles
View map


Places to visit in and around Cork Airport
Cork - 4.6 miles
View map

Shandon Bells, Shandon - 4.9 miles
View map

The Cork Vision Centre - 5.3 miles
View map

Cork Butter Museum - 5.4 miles
View map

Cork Heritage Centre - 5.8 miles
View map

Cork Public Museum, Fitzgerald's Park - 5.8 miles
View map

The Lifetime Lab at the Old Cork Waterworks - 5.8 miles
View map

Queenstown Heritage Centre Cobh - 5.8 miles
View map

The Cork City Gaol, Sunday Well - 6.2 miles
View map

Jameson Heritage Centre Middleton - 6.5 Miles
View map