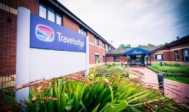 Family Room
Travelodge Cork Airport Hotel
Black Ash
Kinsale Road Roundabout
Frankfield Road
Cork

Tel: 00 353 21 4310722
Fax: 00 353 21 4310723
Important information
If you are experiencing any problem make your
reservation please contact us on

+1890 709709

Travelodge Cork Airport is 3 miles from
Cork International Airport and a 5 minute drive from
Cork City.

Local shops and services are available close by and it is only a short walk to the local traditional pubs.

This Hotel has a Rockin Joe's Diner which is open
Monday – Friday between 7:30am and 10:00pm and
between 8:00am and 9:00pm on Weekends & Bank
Holidays.
Cork Hotel Information
Our Cork Hotel combines comfort with convenience and is located just a 5 minute drive from Cork Airport and Cork city centre.

Our attractive Cork airport hotel features all the facilities you'd expect from a Travelodge, with a great range of amenities and attractions in close proximity. The hotel is a perfect place to stay if you're planning to visit Cork City, Kinsale, West Cork, Beara Peninsula, Kenmare, Killarney or the Ring of Kerry, putting you right in the heart of the Emerald Isle. Local shops, services and a traditional pub are only a few minutes' walk away, and as with all our hotels, you'll benefit from high-quality comfort that doesn't cost a fortune.

If you fancy a delicious and reasonably priced meal or snack then you're in luck with this fantastic B&B near Cork airport as the hotel hosts the Eddie Rockets American Style Restaurant, which serves breakfast, lunch and dinner from 8am to 11pm daily.

Other hotel facilities include spacious bedrooms with king size beds and sofa-beds for additional sleeping, multi-channel televisions with access to Sky news and Setanta sports and plentifully supplied, complimentary tea and coffee making facilities.

Typically, check -in and check-out times are at 3pm and 12pm respectively but the hotel provides varied check-in options, including fast check-in service to help save you time. The hotel also offers complimentary parking for those with their own vehicle while a free phone taxi service and regular bus service to Cork City are also available.

Nearby attractions that you may want to visit include the Shandon Bells, The Cork Visitor Centre, Cork Butter Museum, Cork Heritage Centre, Cork Opera House and Blarney Castle.

Cork city itself boasts a world-famous range of bars, nightclubs, restaurants, museums, galleries and theatres to keep you entertained. After spending a night on the tiles you can retire to our comfortable hotel where you're sure to get a good night's rest – setting you up for another exciting day of sightseeing.
Transport links near Cork Airport Hotel
Cork Airport - 3 miles
View map

Cork Train Station - 3.5 miles
View map

Cork Ferry Port - 9.5 miles
View map


Places to visit in and around Cork Airport
Cork - 4.6 miles
View map

Shandon Bells, Shandon - 4.9 miles
View map

The Cork Vision Centre - 5.3 miles
View map

Cork Butter Museum - 5.4 miles
View map

Cork Heritage Centre - 5.8 miles
View map

Cork Public Museum, Fitzgerald's Park - 5.8 miles
View map

The Lifetime Lab at the Old Cork Waterworks - 5.8 miles
View map

Queenstown Heritage Centre Cobh - 5.8 miles
View map

The Cork City Gaol, Sunday Well - 6.2 miles
View map

Jameson Heritage Centre Middleton - 6.5 Miles
View map