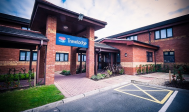 Family Room
Travelodge
Waterford Hotel
Tel: 00 353 51 358 885
Fax: 00 35351 358890
Important information
If you are experiencing any problem with making your reservation please contact us on +1890 709709
The Waterford Travelodge is located opposite the Water Crystal visitor centre in the heart of Waterford's busy commercial district.
Travelodge Waterford Hotel, City Centre Budget Hotel
Best Rates Direct Guaranteed: Travelodge Ireland Hotels guarantee that you will only find the best hotel room rates when booking direct online for the Travelodge Waterford Hotel.
Booking Direct Benefits with Travelodge Ireland:
Best Rates Online Direct Guaranteed
Manage your hotel reservations online
12pm noon on the day cancellations*
Prices are quoted per room per night
Waterford Hotel Visitor Guides and Local Attractions
At Travelodge Hotels Ireland we're dedicated to making your stay as comfortable as possible by getting rid of overpriced and unnecessary extras to focus on making our rooms ideal for those visiting on a budget. With comfortable beds, en suite bathrooms and a flat screen TV in every room, everything in our Travelodge Waterford Hotel is designed to make you feel at home.
We don't just offer the best rates for our comfortable rooms. We want to make sure that you have as fun a time as possible when you head to any one of our cheap hotels, so we've put together a Waterford visitor guide so that you know everything there is to do when you head to Waterford.
Our Travelodge Waterford Hotel offers budget 3 star accommodation near to the Waterford city centre so that you can start to explore the great sights of Waterford city. Whether you're flying in for a business meeting through Waterford Airport or just visiting for a weekend break in Waterford with the family our hotel gives you great access to everything in the city.
With 56 cheap rooms sorted into Double rooms, Twin rooms, Family rooms and Triple rooms we can accommodate to everyone, with 3 of our ground floor rooms designed specifically for people with wheelchairs. We make sure that everything you need is taken care of with our Rockin Joe's restaurant, 24 hour check in facilities and cheap Wi-Fi. With a 56-space free car park just outside our hotel you can be sure of a convenient stay if you're driving into our budget hotel.
Book a room in our budget Waterford hotel today to save money while staying in a comfortable part of one of the most ancestral cities in Ireland.
Waterford city history and budget hotel accommodation
Waterford is famous for being the oldest continually occupied city in Ireland, whose inhabitation started out with Vikings creating the city's original foundations. Signs of the city's Viking connection can still be seen throughout the area with buildings like the famous Reginald's Tower still standing from the early years of the city's existence.
Over the years the city grew considerably with an excellent location leading to great economic success as a port. Producing some of the world's most impressive crystal sculptures as well as a huge amount of goods for export, Waterford became the hallmark name for excellence in arts across Ireland.
As the number 1 chain of budget hotels in Ireland, we at Travelodge Hotels Ireland know exactly what our guests are looking for when they book with us: a comfortable night's stay in a hotel ideally located to all the key amenities, local attractions and activities. By cutting out unnecessary and overpriced extras we've been able to focus on making your stay with us a comfortable experience for a budget price. Take advantage of Travelodge Ireland's best rates guaranteed direct through our website and book a room in our cheap Waterford Hotel today. Save by getting the best value for money in the whole city of Waterford only when booking direct online.
Suggested visitor attractions in Waterford city
Whenever you stay in one of our cheap hotels we want to make sure that you have an incredible time. So that you don't miss out on any of the fascinating visitor attractions across Waterford city we've put together a guide to the Waterford Top 10 Attractions. With our budget hotel found near the Waterford's city centre you can easily start to explore the historic and modern attractions of Ireland's oldest city.
The Viking Triangle is one of the oldest areas in the whole city and is one of the major hubs for tourists in the city. The area features some of the city's best restaurants and small galleries as well as some of the incredible Waterford Museums.
With so much history to cover, there are 3 Waterford museums each of which looks at a distinct part of the area's past. The ancient Viking Tower looks at the founding of the city with some rare artefacts like jewellery and swords. Over time, many pieces created by the Vikings have been destroyed, so the Waterford collection is absolutely unique.
Moving up through the years, the Medieval Museum celebrates the city of Waterford starting to become a major part of Ireland's culture, collecting some of the impressive pieces which arrived in the city over time. Most famously, the museum holds the only surviving set of decorated medieval vestments. This gorgeous set of clothing was hidden for years under the original Christ Church Cathedral to protect it over time.
Most recently, the Bishop's Palace museum is located in the former home of Waterford's head bishops. Showing off the reality of upper-class life during the Georgian era, exhibitions at the palace lead visitors through the city's recent history up until the present day.
If you're looking for something a little more modern, head to the House of Waterford Crystal. One of the city's most iconic industries, the production of crystal sculpture really put the city on the map. This unique tourist attraction lets visitors watch crystal being created in an exciting and fiery display of talent.
There's so much to do in Waterford city that we wouldn't be able to fit it all on this page, so head to our Waterford Top 10 Attractions page to start to see a few more of the amazing visitor attractions around the city.
Transport links to the Travelodge Waterford Hotel
Our cheap Waterford Hotel is found near the centre of Waterford city, easily reachable whether you're traveling through public transport or driving in. If you're flying in from Waterford Airport you can easily reach the city centre and our budget Waterford Hotel from the 360 and 360A bus route. Because of our 24 hour check in facilities you don't need to worry about being able to get into your room no matter what time you arrive into Waterford city.
Our budget Waterford Hotel is just off the two main roads into Waterford, the R680 and R675, so it's perfect for anyone who wants to drive into the city. The roads continue through the town centre up to the River Suir and on into Kilkenny, making our hotel ideal for anyone heading out on a business trip.
Book a room at our 3 star Waterford hotel today to get the best rates guaranteed direct with Travelodge Ireland hotels.
Transport links near Waterford Hotel
Waterford Train station - 2 miles
View map

Rosslare ferry terminal - 36 miles
View map