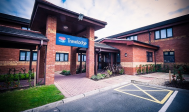 Family Room
Travelodge Waterford Hotel
N25 Cork Road
Waterford

Tel: 00 353 51 358 885
Fax: 00 35351 358890
Important information
If you are experiencing any problem with making your reservation please contact us on +1890 709709
The Waterford Travelodge is located opposite the Water Crystal visitor centre in the heart of Waterford's busy commercial district.
Waterford Hotel Information
Our Waterford Hotel is yet another example of a fantastic Travelodge hotel that combines comfort with convenience, and is situated in the heart of Waterford City in the South East of Ireland. The hotel provides easy access for a range of outdoor and sporting activities. These include golf, walking, angling, cycling, water and equestrian sports.

The hotel features all the facilities you'd expect from a Travelodge, with a range of amenities and attractions close by that will help to make your stay enjoyable and memorable. As with all our hotels throughout the country, this Waterford hotel offers budget-friendly prices that place a premium on both style and comfort.

If you're looking for cheap hotels in Waterford, you'll be hard-pressed to find such good value hotel in such a great location. Like the best of the Waterford City hotels, the Travelodge Waterford Hotel benefits from being close to the city's famous landmarks and attractions, such as Reginald's Tower, Waterford Crystal Centre, Passage East, Waterford Cathedral, The Waterford Institute of Technology, and Dunmore East. The picturesque Tramore Beach and Playground – a particularly popular destination for families – are also close. Waterford City itself also has a wide range of bars, nightclubs and restaurants to keep you entertained in the evenings.

Hotel facilities include free parking and Wi-Fi, double and twin bedrooms, as well as single rooms complete with pull-out sofa beds. All rooms have multi-channel televisions so you can create a home from home with your favourite TV shows. Rooms are plentifully stocked with complimentary tea and coffee-making facilities. Prices are quoted per room, and you can access the internet on an unlimited basis for €5 every 24 hours.

The hotel is accessible 24 hours a day and early/late check-in can be arranged by telephone in order to suit your schedule and travelling plans.

If you fancy a delicious, reasonably priced meal or snack, this hotel in Waterford City is home to a branch of the Eddie Rockets American Style Restaurants, which serves breakfast, lunch and dinner from 8am to 11pm daily.

The Waterford will provide all you need for an enjoyable stay, whether you're visiting the region for business, pleasure... or a little bit of both!
Transport links near Waterford Hotel
Waterford Train station - 2 miles
View map

Rosslare ferry terminal - 36 miles
View map