Dublin Airport South Hotel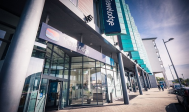 Travelodge
Dublin Airport South Hotel
Tel: 00 353 1 842 2000
Fax: 00 353 1 842 3000
Important information
If you are experiencing any problem with making your reservation please contact us on +1890 709709 Travelodge Dublin Airport Ballymun does not operate a courtesy coach service. However the hotel is a 5 minute taxi ride from Dublin Airport and these are available at a low rate. This hotel has a restaurant offering breakfast and light meals with a fully stocked bar.
Travelodge Dublin Airport South Hotel details and information
Best Rates Direct Guaranteed: Travelodge Ireland Hotels guarantee that you will only find the best hotel room rates when booking direct online for the Travelodge Airport South Hotel.
Booking Direct Benefits with Travelodge Ireland:
Best Rates Online Direct Guaranteed
Manage your hotel reservations online
12pm noon on the day cancellations*
Prices are quoted per room per night
Airport South Hotel Guide and information
Travelodge Ireland Hotels is the number one chain of budget hotels in Ireland, offering all our guests a great night's sleep at an unbeatable price. Because we cut out the overpriced extras of other hotels while still giving you a great night's rest, you can be sure that when you book with Travelodge you'll be getting the best rates guaranteed direct through our website.
Our Travelodge Airport South Hotel is one of the two budget Dublin Airport Hotels we operate, giving our guests a great location near to the busiest airport in Ireland. With more than 20 million passengers travelling through every year, our hotels are designed to give you a comfortable night's sleep whether you're arriving into Dublin city late at night or planning on catching an early flight out on holiday.
All of our 5 cheap Dublin Hotels give our guests an excellent place to stay no matter where you want to stay in the city. The Airport South Hotel is located between Dublin city centre and Dublin Airport to give our guests a great place to stay for getting into the city quickly after a late flight or for relaxing in an area just outside of the busy city centre. If you're looking for somewhere closer to the airport, check out our Travelodge Airport North Swords Hotel just a short journey from areas like Malahide.
Along with the cheap 24 hour fast check in service and Wi-Fi connection, every one of our 125 budget rooms comes with a comfortable bed, a flatscreen TV and a spacious ensuite bathroom. Our rooms accommodate for anyone whether you're travelling alone or looking for either a Double room or a Triple room. We have 5 rooms specifically designed to give those using wheelchairs a great night's sleep. If you're renting a car at the airport, our hotel has free car parking to save you more.
While you're staying in our cheap hotel you can try a delicious meal when you head to our Travelodge restaurant. Serving up some delicious meals from across the world along with a fully stocked bar we've got something for every taste. Check out our new menus to see the great range of budget meals that we offer.
Book a cheap room in our budget 3 star hotel today and get ready to have a great experience while you stay with Travelodge Hotels Ireland.
Information and guides for Dublin city
Dublin city is one of the best known parts of Ireland having been a cultural hub for centuries. While everyone's heard of the capital, a lot of people don't know about the amazing history of the city. Originally founded more than a thousand years ago as a Viking settlement, the city saw a number of conflicts between the High Kings of Ireland and the Norse kings of the area. You can find out more about this fascinating history when you head to the incredible Dublin Museums.
Over the years, Dublin began to grow into the incredible area it is today with the establishment of major industrial areas (we recommend you check out the Guinness Storehouse to see more about the city's most famous creation) like Dublin Port. If you're flying into the city for a Dublin business meeting, sign up for our corporate programme to save even more on our budget Dublin Airport Hotels.
Suggested Local Dublin Attractions from Travelodge
To make sure that your stay is as enjoyable as possible, we at Travelodge Hotels Ireland want to recommend a few of our favourite attractions from all around Dublin city. Head to our Dublin Top 10 Attractions page to see some more of the best tourist attractions across the city. There's some great choices around the city for when you take a weekend break to Dublin.
As the capital of Ireland you can be sure to find some great things to do no matter where you stay in the city, so we've started with a couple of the attractions around our Travelodge Airport South Hotel.
The Glasnevin Cemetery is an essential part of Dublin's history, housing the graves of some of the most important people in the recent past of Ireland. Take a tour around to learn about the fascinating history of the country. Just a few miles from our Travelodge Airport South Hotel, the cemetery is great for anyone interested in the historic side of the city.
If you fancy something a bit more lively, head to the National Botanic Gardens right next door to Glasnevin and see one of Ireland's most established places for a day out. A fantastic collection of over 20000 plants from around the world gives visitors some great sights for a day out in Dublin.
As the capital of Ireland, there are some very trendy areas in Dublin city. Head to the famous Temple Bar district to take in a concert or experience some of the city's best destinations for nightclubbing. Whether you're looking to experience some of the traditional tastes of Ireland or some more modernist things, the Temple Bar is a great way to spend the evening while in Dublin.
Getting to the Travelodge Airport South Hotel
Right between Dublin Airport and the city centre, you can get to our Travelodge Airport South Hotel in a number of ways. If you're coming from the airport, take the airport shuttle bus or get on the number 41 bus south from the airport and change to the 17 at Swords Road.
Reaching our cheap hotel from the city centre is easy. Just take the regular 13 or 4 bus services between the two areas for a convenient journey. Our hotel is just off the M50, M1 and M3 giving our guests who drive in an ideal location. For those heading to the city in a more unusual way, the Dublin Ferry arrives at Dublin Port, just a short distance from our budget hotel.
Book a room in one of our budget Dublin Airport Hotels now and get ready to experience the great sights of Dublin city at an unbeatable price.
Transport links near Dublin Airport South Hotel
Dublin Airport - 3 miles
View map


Places to visit in and around Dublin Airport