Dublin Airport South Hotel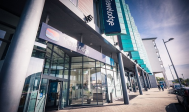 Travelodge Dublin Airport South Hotel
Shangan Road
Ballymun
Dublin, 9
Ireland

Tel: 00 353 1 842 2000
Fax: 00 353 1 842 3000
Transport links near Dublin Airport South Hotel
Important information
If you are experiencing any problem with making your reservation please contact us on +1890 709709 Travelodge Dublin Airport Ballymun does not operate a courtesy coach service. However the hotel is a 5 minute taxi ride from Dublin Airport and these are available at a low rate. This hotel has a restaurant offering breakfast and light meals with a fully stocked bar.
Places to visit in and around Dublin Airport
Dublin Airport South Hotel Information
Dublin Airport South Hotel Information

When we think of Dublin, itís easy to imagine the rich culture and warm Irish atmosphere. But to make the most of your stay in the Irish capital, you need good Dublin accommodation.

Half-way between the airport and the city, Travelodge Dublin Airport South offers the best of everything. Itís not on the remote outskirts of the city, like the airport itself, but offers enough peace and quiet away from the city centre with easy access to the airport.

Additional home comforts and services make this one of the best hotels at Dublin airport. Only 7 minutes from the airport, the hotel offers large, comfortable rooms with Wi-Fi access and multi-channel TV. The three-star hotel also has various in-house facilities, such as a bar and restaurant, to make your stay as comfortable and as easy as possible.

Dublin city centre boasts plenty of shopping opportunities, as well as various cultural attractions and a vibrant nightlife. Being within easy reach of this is a plus, but being able to retreat to a private, quiet room has its advantages too. Again, staying at Dublin airport hotels makes it easy for you to immerse yourself in the activity of the city centre before retiring for a quiet nightís rest if the city is a little too manic for you.

If you want to explore more of the country's history, there are plenty sights worth a visit. Swords Castle is a popular castle to visit just outside Dublin; even more reachable if you've booked a Dublin airport hotel in the same region. This small landmark gives you an insight into Dublin's history with other historical attractions including Malahide Castle. If you want more modern culture however, then look to the likes of the Helix Theatre. Located in Dublin City University, this is a hot spot for concerts and art shows.

Whatever youíre looking for on your trip to Dublin, our Dublin Airport South hotel here at Travelodge has everything you need.