Limerick Castletroy Hotel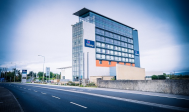 Family Room
Travelodge
Limerick Castletroy Hotel
Tel: 00 353 6 160 3500
Fax: 00 353 6 160 3222
Important information
If you are experiencing any problem with making your reservation please contact us on +1890 709709 Early Check-in and Late Check-out service available at this hotel for an additional charge. Early Check-in available from 12 noon, subject to available rooms. Late Check-out available until 1400, subject to available rooms.
Travelodge Limerick Castletroy Hotel details and information
Best Rates Direct Guaranteed: Travelodge Ireland Hotels guarantee that you will only find the best hotel room rates when booking direct online for the Travelodge Limerick Castletroy Hotel.
Booking Direct Benefits with Travelodge Ireland:
Best Rates Online Direct Guaranteed
Manage your hotel reservations online
12pm noon on the day cancellations*
Prices are quoted per room per night
Limerick Castletroy Guides and Information
At Travelodge Hotels Ireland we are committed to giving you a great a stay as possible when you book a room for any of our budget hotels across Ireland. With our city guides we've tried to give you all the information you need to explore the best parts of Ireland where you can find our 3 star accommodation, and now we've brought you this page to explain exactly what you can expect when you book a room in our Travelodge Castletroy Hotel on the east side of Limerick.
We have two budget hotels in Limerick to make sure that you've got a great place to stay no matter which part of the city you want to spend time in. With its location just east of the Limerick city centre, our Travelodge Castletroy Hotel is idea for anyone looking to visit the University of Limerick or explore some of the great attractions in the city centre.
Our Limerick Castletroy Hotel has 70 cheap rooms available whether you're looking for a Family room, Disabled-friendly room, Double room or Twin room. We've designed our hotels to be as convenient as possible with 4 wheelchair accessible bedrooms and 24 hour check in facilities. Our free car park is just outside the hotel giving you a convenient place to stay.
Booking with us means that you get the best rates guaranteed direct through our site, giving you the best price for a 3 star hotel wherever you want to stay. We cut out unnecessary extras to focus on improving your stay and giving you the best possible prices without compromising on quality. This means that every room in our budget Limerick hotels is sure to give you a comfortable night's stay along with a spacious ensuite bathroom, flat screen television and facilities for tea and coffee.
If you're planning on flying into Limerick via Shannon Airport, you might want to consider booking a room at our Travelodge Ennis Road Hotel. On the west side of Limerick, this hotel is on the route between the airport and Limerick city centre to give maximum convenience to travellers.
Limerick city history and attractions information
The city of Limerick is one of the oldest in Ireland with an absolutely incredible amount of history. Originally founded before the 9th century, the city was burned to the ground by Viking raiders, and recreated in the 12th century with major buildings like King John's Castle and the Limerick Cathedral being built to establish the area as an important part of Ireland.
Limerick and the surrounding area were inhabited long before the city was established, and the natural paradise of Lough Gur lets visitors see the remains of Limerick's ancient culture. From Stone Age structures to far more modern creations, this is one of the most fascinating areas around Limerick city.
In more modern years, Limerick was central in Ireland's growth into a major producer. The city has been described as the Silicon Valley of Ireland because of its incredible connection to technology, leading to a number of business parks being constructed over the years. If you're heading to the city for a Limerick business trip you can get a special rate by signing up for our corporate programme.
Suggested tourist attractions in Limerick
Travelodge Ireland Hotels are dedicated to giving you a great time whenever you stay with us. Along with our amazing prices and locations we've brought you some information about the best visitor attractions to see while you're in Limerick city.
If you're in the mood to explore some of the exciting modern areas in the city our Limerick Restaurants page has a guide to the best nights out and dinner destinations across the whole area. From high-class French cuisine to delicious traditional pub food there's something to fit every kind of taste. Depending on when you head to the city you can see one of the great Limerick Festivals which run throughout the year to highlight some of the lesser known parts of Limerick's culture.
Some of the best attractions in Limerick are a little outside of the city centre itself. Head to the tranquil Adare Village to see one of Ireland's most beautiful areas with traditional thatched cottages, gorgeous medieval ruins (and some great places for local shopping!). One of the best places to take a day out in Ireland, we recommend Adare for anyone looking to relax while staying in one of our budget Belfast hotels.
Why not travel to Bunratty Castle to really get in touch with the history of Limerick city? At Bunratty, 4 attractions tell the story of Limerick's development over time. Check out the medieval castle before exploring the gorgeous walled garden and collection from the castle, then head around the Folk Park to see 19th century life brought back in the modern day. A fantastic family attraction, Bunratty Castle is an ideal destination for anyone coming to Limerick for a weekend break.
Book a budget room in our Travelodge Castletroy hotel today and save money on our comfortable 3 star accommodation.
Transport for the Travelodge Castletroy Hotel
While our Travelodge Castletroy Hotel is on the east side of Limerick, it is still accessible from the famous Shannon Airport. The 343 bus from the airport heads through the town centre and stops near our hotel. If you're planning on taking the train into Limerick, the central Colbert station is quite close to our cheap Limerick hotel, just over 2 miles drive. Regular bus services (the 304,305,307 and 308 lines) will drop you off near to our hotel for a convenient stay on a budget.
Book a room in one of our budget Limerick hotels now to get the best available deals and value for money available in Limerick.
Transport links near Limerick Castletroy Hotel
Limerick Train Station - 4 miles
View map

Shannon Airport - 13 miles
View map