Limerick Castletroy Hotel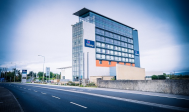 Family Room
Travelodge Limerick Castletroy Hotel
Park Point
Castletroy
Dublin Road
Limerick

Tel: 00 353 6 160 3500
Fax: 00 353 6 160 3222
Important information
If you are experiencing any problem with making your reservation please contact us on +1890 709709 Early Check-in and Late Check-out service available at this hotel for an additional charge. Early Check-in available from 12 noon, subject to available rooms. Late Check-out available until 1400, subject to available rooms.
Limerick Castleroy Information
The Limerick Castletroy is yet another Travelodge that combines comfort with convenience, and is situated within a 2 mile distance from Limerick City, and a 20 minute drive away from Shannon International airport on the Dublin Road. The recently opened contemporary hotel features all the facilities you'd expect from a Travelodge, with a near-by range of amenities and attractions that will help to make your stay enjoyable and memorable. As with all Travelodge's, the hotel offers budget-friendly prices without any compromise to the quality of your accommodation and comfort.

The hotel enjoys a location that is a ten minute walk from the famous University Concert Hall- a live music venue that regularly hosts some of Ireland's most celebrated acts. Other nearby attractions and places of interest include the University of Limerick, King John's Castle, Lough Gur, the National Technology Park, Thomand Park and the idyllic River Shannon. Limerick City itself also has a wide range of bars, night-clubs, restaurants, museums and other venues that can keep you entertained, refreshed and active.

The hotel is also in close proximity to a range of useful amenities, including the 90 thousand sq ft Castletroy shopping centre. The shopping centre is just a few minutes from the hotel and includes 24 shops, a McDonalds, a Superquinn supermarket and an 8-screen cinema featuring the latest blockbusters and releases.

Hotel facilities include: generously- sized family, triple, double and twin bedrooms, secure underground parking and Wi-Fi. All rooms have multi- channel televisions and are plentifully stocked with complimentary tea and coffee making facilities. Room-rates start at €49 and you can access the internet on an unlimited basis for €5 every 24 hours. Prices are quoted per room and all have sufficient space for three adults and a child, or two children and two adults. The hotel is accessible 24 hours a day and early/late check in can be arranged by telephone in order to suit your schedules and travelling-plans.

The hotel features magnificent views of the picturesque city of Limerick and provides all you need for an enjoyable stay- be it for business, a city- break or a longer holiday with family or friends.
Transport links near Limerick Castletroy Hotel
Limerick Train Station - 4 miles
View map

Shannon Airport - 13 miles
View map