Travelodge Dublin City Rathmines: Booking from €49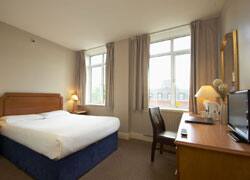 Travelodge Rathmines is perfectly located in a vibrant area 2km from Dublin city centre with many quirky shops, café-bars and restaurants, and offers modern, elegantly designed, spacious bedrooms. Designed to meet the needs of today's budget conscious family, corporate guest or short break customer the Travelodge Rathmines cannot be beaten for inexpensive accommodation, special offers and value.
Prices quoted are per room with single, double, twin and triple rooms available. Bedrooms are spacious; with king size beds set with comfy duvets. Rooms have complimentary tea & coffee making facilities and multi-channel TV including Setanta Sports and Sky News. Reception: 24 hours a day.
Dublin Hotels Deals: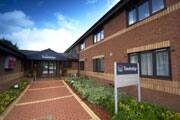 Travelodge Dublin Airport North:

Spring Deal - Enjoy over night accommodation for a family of 4 (2 adults and 2 kids) to explore the beautiful areas of Swords & Dublin. Midweek €39 per room ; Weekends: €49 per room. Book Now!

Airport Getaway - Overnight accommodation, Hopper bus to and from the airport and 2 days complimentary parking for your stay for 2 adults. Mid Week €69 per room ; Weekends €89 per room. Book Now!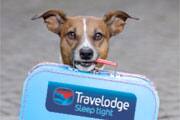 Travelodge Dublin Airport North:

Pet friendly hotel - Enjoy over night accommodation for you an your pet at Travelodge Swords with breakfast included for you and breakfast in bed for you pet. Mid-week €79 ; Weekends €89. This offer is based in 2 people sharing with 1 pet.

To make a booking please contact the hotel directly on 01 8409233.
Book subject to terms and conditions.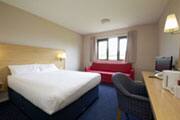 Travelodge Phoenix Park:

We offer discounted National Aquatic centre tickets to
all our leisure guests (60% off). Also our weekend guests
are offered a Sunday Rate of €35 to stay an extra night.

Book Now!
Belfast Hotel Deal: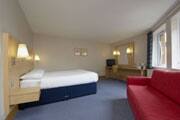 Travelodge Belfast:

There is a discounted offer for 10% off the price of a Belfast Zoo
family ticket. A family ticket includes 2 adults and 2 children
(additional visitors will pay the normal price). Family rooms can be
booked by contacting the hotel directly.

Contact Travelodge Belfast
Derry Hotel Deal:
Travelodge Derry:

Walking tours of Derry's historic walls at just £4 per person and an overnight break starting from as little as £48.50 midweek £59 weekend for a family room. Stay Saturday night and get your room on Sunday night at the incredible price of £35 !.

Book Now!
Limerick Hotel Deal: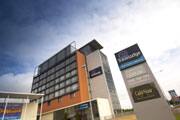 Travelodge Limerick:

Enjoy overnight accommodation for a family of four: 2 adults and 2 children from €39.00 (experience first hand the enjoyment and Fun in a secure and pleasant setting in Stonehall). Visitor Farm it's great outdoor activity for all the family - Family Ticket €35.00: 2 Adults and 3 children or €Â8.00 per person. Or take in a visit to King John's Castle Kids Go Free see T&C.

More info