Search and book
Hotels in Dublin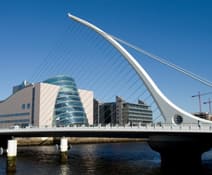 Looking for cheap hotels in Dublin? As the most densely populated city in Ireland, this beautiful capital has plenty to offer visitors. Named the UNESCO City of Literature and packed full of historic sites of interest, any stay in hotels in Dublin is sure to be accompanied by thrilling experiences and varied activities.
With five fantastic Dublin hotels, we are sure to have the ideal accommodation for you no matter what your purpose for visiting. Those arriving in the city by plane can grab a few nights rest at either of our two fantastic hotels near the city's airports with Dublin Airport North 'Swords' and Dublin Airport South both offering great facilities. These are situated just 2 miles outside of the city centre, giving you easy access to all of Dublin's great attractions, whilst Wi-Fi access and 24 hour opening make them convenient options for those arriving on late flights.
Our three city centre hotels are ideal for those interested in staying in the centre of the action. Dublin Phoenix Park Hotel is perfectly situated for shopaholics with Blanchardstown Shopping Centre just 1.5 miles away, whilst our Dublin City Centre Rathmines Hotel provides easy access to Dublin Castle and Christ Church Cathedral for history buffs. Dublin Stephens Green Hotel is also in close proximity to the Castle. The Guinness Visitor Centre is another nearby attraction.
Select a hotel
Travelodges in your search
You must have JavaScript enabled in order to view this map
Things to do in Dublin
If you choose to stay in one of our fantastic Dublin hotels then you'll benefit from easy access to a variety of different attractions. The city has a strong historical background with Dublin Castle and Christ Church Cathedral always proving popular places to begin your exploration.
The city also has a strong literary focus and has been named the UNESCO City of Literature. One tourist attraction which represents Dublin's love for both history and literature is the Book of Kells which has been on display at the Trinity College's Old Library since the middle of the 19th Century. Attracting half a million visitors each year, this is a great attraction which is located just 4 miles from our Dublin Phoenix Park Hotel.
In addition to cheap hotels in Dublin there are also plenty of modern attractions for visitors to enjoy too. Famous Irish beverages can be celebrated at the Guinness Visitor Centre and Jameson Distillery while the National Aquatic Centre and Blanchardstown Shopping Centre offer a variety of alternative activities. Attractions focusing on natural environments and wildlife are also found in abundance with Dublin Zoo and Phoenix Park great examples.
Book Hotels in Dublin City Centre
With three fantastic hotels in Dublin city centre and another two hotels located in key airport locations, we guarantee that wherever you choose to stay our hotels will connect you with everything you need.
All of our Dublin hotels have key locations with our Dublin City Centre Rathmines Hotel hotel putting you within 2 miles of Christ Church Cathedral, the Guinness Hop Store and Marley Park. Dublin Phoenix Park Hotel is then just 3 miles from Dublin Zoo whilst our Dublin Stephens Green Hotel is less than 2 miles from Dublin Castle, Grafton Street, the Jameson Heritage Centre and the Guinness Visitor Centre.